Es wird hard.
Eigentlich könnte man Paleface unter Beatdown/Hardcore einsortieren. Aber die Schweizer halten nichts von Schubladen und mischen auch übern Tellerrand hinaus, was zusammenpasst.
Fear & Dagger erzählt eine Story, die schon auf den Vorgänger-Alben "Chapter 1: From the Gallows", "Chapter 2: The Witch King" sowie "Chapter 3: The Last Selection" begonnen hat. Wir haben den Fear & Dagger-Silberling zugesandt bekommen, hatten aber keine Zeit, eine Review zu schreiben.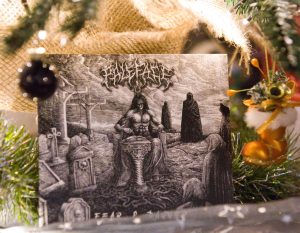 Was gibt es zu gewinnen?
1x Paleface – Fear & Dagger – CD
Frage:
Wie lautet die Teuflisch gute Zahl die als erster Track auf dem Album läuft?
Die richtige Antwort schickt ihr an info@musicghouls.com.
Einsendeschluss ist der 14.12.2022 um 12:00 Uhr.
Es wäre auch sehr nett, wenn ihr Paleface und uns ein Like auf Facebook und Instagram geben würdet!
Der Rechtsweg ist ausgeschlossen, eine Barauszahlung nicht möglich, und weder Facebook noch Instagram haben etwas mit dem Gewinnspiel am Hut.
Viel Spaß wünscht euch das Musicghouls-Team!