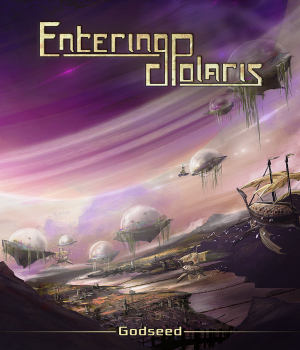 Tom Tas, Gitarrist und Songwriter in Bands wie Ostrogoth, Thorium, Neo Prophet und 23 Acez, produzierte in seiner Karriere immer wieder auch solo ein paar Songs. Mit einem seiner Soloprojekte "Entering Polaris" feiert er am 07.06.2018 Release seines Albums "Godseed". Das Neun-Track-Geschoss glänzt durch Eins-A-Gitarrengeschredder, melodischen Kreationen und wechselnden Sängern.
Namhafte Musiker verliehen dem Longplayer gesanglich das gewisse Extra, jede Voice besticht mit ihrer eigenen Stärken – und so wurden neun individuelle Kompositionen geschaffen. Die Bandbreite des Metal-Albums kennt schier keine Grenzen. Freut euch auf die stimmliche Untermalung durch: Björn Strid (Soilwork), Thomas Vikström (Therion), Georg Neuhauser (Serenity), Fabio Lione (Angra, Rhapsody), Arno Menses (Sieges Even, Subsignal), Lance King (Balance Of Power, ex-Pyramaze), Henrik Fevre (Anubis Gate), Audrey Dandeville (Irradiance) und Sindre Nedland (In Vain).
Wir haben uns den Silberling vorab gegönnt und konnten nicht genug bekommen. Opener "Nostalgia For Infinity" startet mit einem melodischen Gitarrenintro, das in kratzige Riffs und rhythmischen Drums-Part übergeht. Leichte Haken schlagend springen die Instrumentals, bis der Gesang einsetzt. Vom Klargesang bis Growls wird alles geboten. Das Ganze im Refrain mit Doublebass geprügelt, untermalt, was den Track noch etwas mehr Härte verleiht.
Die Lautstärke anheben und die Musik den Raum fluten lassen. Auch die folgenden Lieder lassen einen nicht zur Ruhe kommen. Der zweite Song "Flightless" haut im letzten Drittel eine Saxophoneinlage raus, beim nächsten "It's A Good Day For Burning Witches" haut es einem die Schlagzeugsalven nur so um die Ohren.
Deutlich sticht die Akustik Ballade "A Song Of Distant Earth" raus. Sanfte Klänge auf dem sonst eher hart gehaltenen Silberling. Viel Gefühl und eine eingängige Melodie laden zum Träumen ein. Der Refrain setzt sich schnell durch – und beim zweiten Durchgang summt man oder singt man bereits mit.
Auch "Paradise Reclaimed" ist ein Kracher. Was ruhig beginnt, baut mehrstimmig auf und gipfelt nach kurzer Zeit im Schlagzeuggewitter. Stimmlich wartet man hier mit mehreren Sängern und weiblicher Unterstützung auf. Während die Herren den Klargesang, die Growls und die harten Töne liefern, packt Audrey Dandeville den Operngesang aus. Die Metal-Oper weiß zu begeistern.
Fazit: Du stehst auf Metal-Veteranen wie Iron Maiden, Helloween, Blind Guardian oder Gamma Ray? Kauf das Album! Du liebst klassische Metal-Songs und brauchst soliden, handfesten Gitarrensound, Schlagzeugsalven? Kauf das Album!
Du suchst nach einem Silberling, der dich begeistert, nicht langweilt und kreative Werke im tristen Musik-Alltag liefert? Kauf das verdammte Album!
Punkte 9,5 von 10
Entering Polaris Tracklist inklusive Listung der Gastmusiker:
01. Nostalgia For Infinity: Henrik Fevre (Anubis Gate) & Björn Strid (Soilwork)
02. Flightless: Henrik Fevre (Anubis Gate) – sax solo by Gregg Rossetti of Suspyre)
03. It's A Good Day For Burning Witches: Thomas Vikström (Therion)
04. Godspeed: Thomas Vikström (Therion)
05. Clear Skies: Lance King (Balance Of Power, ex-Pyramaze)
06. A Song Of Distant Earth: Lance King (Balance Of Power, ex-Pyramaze)
07. Paradise Reclaimed: Thomas Vikström (Therion), Georg Neuhauser (Serenity), Audrey Dandeville (Irradiance) and Sindre Nedland (In Vain, Funeral) – guest guitar solo by Joris Van Daele (Michael Angelo Batio)
08. The Field Of Ghosts: Fabio Lione (Rhapsody, Angra) & Arno Menses (Sieges Even,Subsignal)
09. The Long Run: Lance King, Thomas Vikström, Henrik Fevre, Arno Menses & Fabio Lione –
guest guitar solo by Dario Frodo (Ostrogoth, Thorium)

Entering Polaris
Godseed
Label: Freya
VÖ: 07.06.2018
Genre: Metal
Album bestellen
Amazon
Entering Polaris im Web
Homepage
Facebook