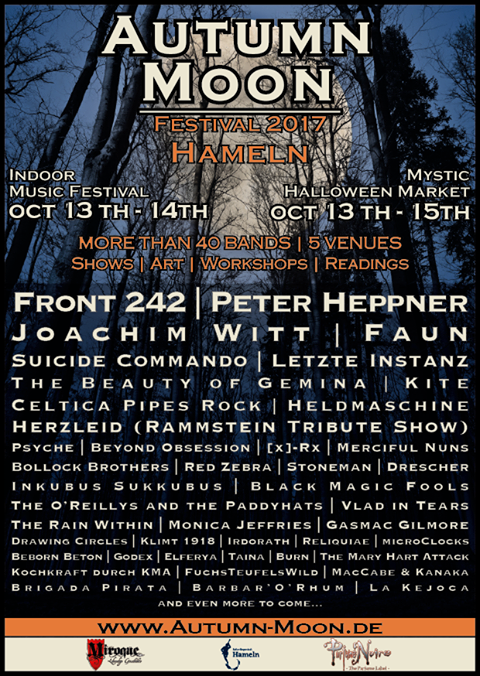 Aller Guten Dinge sind Drei und so lädt die Stadt Hameln ein weiteres Mal zum Autumn Moon Festival ein.
Ob Anhänger der Schwarzen Szene oder Mittelalterfan, hier wird jedem was geboten. Vom 13. – 15. Oktober feiern Genreneuheiten und altbekannte Acts mit euch und treten in vier Locations für euch auf. Den kleinsten Schauplatz findet man auf dem Schiff, mit Platz für maximal 200 Personen, wodurch es hier sehr intime Konzerte gibt. Barcharme pur versprüht das Papa Hemingway. 250 Personen finden hier Platz, um nach Lust und Laune zu feiern. Natürlich sollte man nicht die zwei großen Locations außer acht lassen. Hier könnt ihr mit 700 Fans in der Sumpfblume das Festivalfeeling genießen oder in der Rattenfängerhalle abfeiern. Mit dabei sind Peter Heppner (Wolfsheim) und Joachim Witt (Goldener Reiter), die zusammen einen Platz zwei-Charthit mit "Die Flut" landeten. Außerdem mit dabei sind Faun, Front 242 und viele mehr. Der öffentlich zugängliche Mittelalter- / Halloweenmarkt lädt zum Kaufen und Mitmachen ein und die dort zu findenden Stände bieten neben Kunst, Kultur, Lesungen auch Workshops an des Weiteren wird so manche musikalische Überraschung zu hören sein. Selbstredend wird für die ein oder andere Gaumenfreude gesorgt sein und auch verdursten wird bei der Auswahl keiner müssen.
Festival-Tickets sind bereits bei Panem et Circenses erhältlich, ob nun das Wochenendticket für 74 Euro oder eines der Tagestickets für 49 Euro (Freitag) bzw. 54 Euro (Samstag).
Das Line Up für Freitag 13.10.2017:
Joachim Witt, Front 242, Godex, Stoneman, Kite, The Mary Hart Attack, Black Magic Fools, Fuchsteufelswild, Celtica -Pipes Rock, Herzleid-Tribute to Rammstein, The O'Reillys and the Paddyhats, Beyond Obsession, Vlad In Tears, MacCabe & Kanaka, Irdorath Fantasy-Folk Band, microClocks, Waldkauz, Barbar'O'Rhum, Drescher, Brigada Pirata, Burn, Inkubus Sukkubus, The Bollock Brothers und Red Zebra.

Das Line Up für Samstag 14.10.2017
Peter Heppner, Suicide Commando, Letzte Instanz, FAUN, Beborn Beton, Psyche, The Beauty of Gemina, Heldmaschine, TAINA, Drawing Circles, Merciful Nuns, Kochkraft durch KMA, KLIMT1918, The Rain Within, Irdorath Fantasy-Folk Band, MacCabe & Kanaka, Reliquiae, Waldkauz, Monica Jeffries, Barbar'O'Rhum, Brigada Pirata, Gasmac Gilmore, Elferya, La Kejoca und X-Rx.
AUTUMN MOON FESTIVAL 2017
13.-15.10.2017
Hameln
Öffnungszeiten des Halloweenmarkt
Freitag, 13.10. von 14-24 Uhr
Samstag, 14.10. von 11-24 Uhr
Sonntag, 15.10. von 11-18 Uhr
Tickets bestellen:
Panem et Circenses