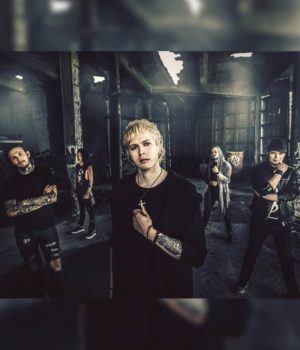 English version below!
Hi, ich bin Vin Valentino von Delta Enigma und ich möchte euch unsere neue Single "Unreality" vorstellen.
Dieses Mal wollte ich etwas anderes machen indem ich eine längere, mysteriöse Storyline schreibe. Ich bin ein großer Fan von Psycho-Horror und Mystery Dramen (Silent Hill, P.T. , Twin Peaks) ,also entschloss ich mich ihrem Erzählungsstil zu folgen.

Der Song und das Video handeln von einer traumatisierten jungen Frau namens Alice, die Zeuge eines erweiterten Selbstmords geworden ist, als sie nur ein Kind war. Ihr Vater litt unter einer ernsten psychischen Erkrankung und Alkoholismus, der mit der Zeit schlimmer geworden war. Der Vater erschoss Alice's Mutter und sich selbst mit einem Jagdgewehr im Wohnzimmer. Alice blieb mit den Leichen zurück, sprach mit ihnen, wartete darauf, das ihre Eltern wieder aufwachten. Sie wurde nach ein paar Tagen von jemandem im Haus gefunden, der vorbeikam um nach dem rechten zu sehen, da niemand je das Telefon abnahm.
Einer der wiederkehrenden Charaktere in dem Video ist eine Hasenfigur, die in verschiedenen Formen immer wieder auftaucht. Sie ist eine Erinnerung an das geliebte Plüschtier, das Alice und ihre Mutter Mr. Rabbit getauft hatten. Alice hatte das tröstende Spielzeughäschen die ganze Zeit bei sich während sie im Mörderhaus geblieben war.
Zeit ist vergangen seit den grausamen Ereignissen ihrer Kindheit, aber nun da sie eine Erwachsene ist, beginnen all diese verdrehten Erinnerungen wieder aufzutauchen. Die Darstellung ihrer traumatischen Vergangenheit taucht auf in Form kindlich märchenhafter Charaktere in ihrer eigenen "Traumrealität". Die Charaktere haben eine tiefere Bedeutung; der am meisten beeinflussende dabei ist "Der Direktor", der Alice's Bewusstsein verkörpert während sie träumt.
All die Sachen, die der Direktor sagt, sind tatsächlich Alice's Gedanken. Der Song/das Video handelt davon wie Alice ihren gespalteten Geist andauernde PTBS ( Posttraumatische Belastungsstörung) aufarbeitet.
Hi, I'm Vin Valentino from Delta Enigma and I would like to introduce our latest single, "Unreality".
This time I wanted to create something different by writing a lengthy, mysterious storyline. I am a really huge fan of psychological horror and mystery drama (Silent Hill, P.T., Twin Peaks) so I decided to follow their style of telling the story.
The song and video are about a young traumatized woman named Alice, who witnessed a murder-suicide when she was only a child. Her father had severe mental illness and alcoholism which got worse by time. The father shot Alice's mother and himself with a hunting rifle in their living room. Alice stayed with the bodies, talking to them, waiting for her parents to wake up. She was found inside the house several days later by someone who came to look for their family because no one ever answered the telephone.
One of the recurrent characters in the video is a bunny figure which appears in different forms. It is a memory of the beloved stuffed animal which Alice and her mother had named Mr. Rabbit. She had the comforting bunny toy with her the whole time she stayed inside the murder house.
Time has passed since the cruel events of her childhood, but now when she's adult, all her twisted memories start appearing to her again. The embodiments of her traumatic past take form of childish fairytale-like characters inside her own "dream reality". The characters have a deeper meaning; the most influential of them being "The Director" who actually represents Alice's conscience, while she is "dreaming".
All the things that The Director says are in fact Alice's own thoughts. This song/video is about Alice processing her shattered mind and the prolonged PTSD (post-traumatic stress disorder).
Songtext
Hopeless craving undenied
Lifeless feelings sacrified
They are
Chained in pain
Chained in pain
Call my name
I'll fall for you again
It leaves me colder to drown myself in the past
My loving comfort of lies won't last
Unreality
I'm living in a dream
My wounds wide open
Only you can save me
Unreality
No, this can't be happening
Wake me up from this…
dream…
You're the perfect remedy,
for my darkest tragedy,
oh love
'Cause I'll do anything to keep myself away
from any memory that leads me back home
Unreality
I'm living in a dream
My wounds wide open
Only you can save me
Unreality
No, this can't be happening
Wake me up from this
dream-reality
You can save me
Unreality
My insanity
Wake me up from this dream
Unreality
I'm living in a dream
My wounds wide open
Only you can save me
Unreality
No, this can't be happening
Wake me up from this
dream-reality
You can save me
Unreality
My insanity
Wake me up from this dream
Wake me up from this dream