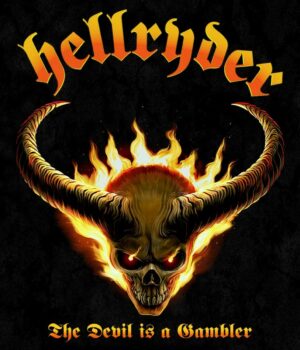 Schon 2017 überlegten Chris Boltendahl und Axel Ritt ein Projekt ins Leben zu rufen, das zurück an die Wurzeln des Heavy Metal geht.
Die Frage, die sich die zwei stellten, war: Wie kann man "Back to the Roots" und doch was ganz neues kreieren? Da die Bandaktivitäten von Grave Digger genau wie die der meisten anderen Bands dank Covid 19 mehr als nur eingeschränkt wurden, konnten sie sich nun dem neuen Projekt stellen.
Bereits im September 2020 konnten die ersten Songs von Hellryder eingespielt werden. Mit Timmi Breideband (Gregorian, ex-Bonfire, ex-Freedom Call) und Bassist Steven Wussow (Orden Ogan, ex-Domain, ex-Xandria) nimmt die neue Formation immer mehr Gestalt an. Die Zeichen stehen auf Sturm, es wird Zeit für harten, kompromisslosen Heavy Metal.
Ab dem 28. Mai sollte das Debüt-Album "The Devil Is A Gambler" via ROAR/Soulfood in den Läden stehen. Der Silberling wartet mit 12 Tracks auf und wird in den folgenden Varianten erhältlich sein.
Erhältich als:
• Digipak-CD
• Limited Digipak-CD-&-T-Shirt-Bundle
• Black Vinyl (LTD. 150) incl. signed A3 poster
• Transp. Yellow Vinyl (LTD. 150) incl. autograph card
• Orange/Red Splatter Vinyl (LTD. 200) incl. autograph card
• Digital streaming/download
Hier kann das Album vorbestellt werden:
Physisch:
ROAR
Musicmegastore
Digital:
Rockworld24
TRACK LIST:
01. Hellryder
02. Sacrifice In Paradise
03. Night Rider
04. The Devil Is A Gambler
05. Jekyll & Hyde
06. Faceless Jesus
07. Chainsaw Lilly
08. I Die For You
09. Bad Attitude
10. Passion Maker
11. Harder Faster Louder
12. I Don't Wanna Die (Bonus Track)
HELLRYDER
The Devil Is A Gambler
ROAR / Soulfood
VÖ: 28.05.2021
Genre:Metal