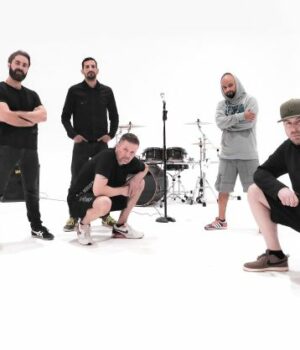 Berlin ist zurück auf der Hardcore-Landkarte! Das Debütalbum von Blood.Shot.Down. erscheint via Coretex / Spinnup am 16. April in den Läden.
Hardcore ist ja eigentlich keine reine Bewegung, viel mehr ist es eine Lebenseinstellung. Berlin war Anfang der 90er vollgepackt mit dieser Musikkultur.
Nun fragt man sich, was haben die Jungs von Blood.Shut.Down. damit zu tun? Seit vielen Jahren schon machen die Musiker die Szene unsicher. Damals noch in diversen anderen Projekten, unter anderen in: Disrespect, Hostile Youth, Devil Inside/Jaylan, Alithia, Hasret, Karras und CrosscuT und waren somit in den letzten 20 Jahren ein Teil der bundesweiten Szene.
In diesen Formationen tobten sie sich auf den großen Festivals wie das With Full Force, das Vainstream, Haltestelle Woodstock (PL), Monster Mastership Skate World Cup, Rock For People, Summer Breeze, Summer Madness oder Alveran sowie Touren mit Sepultura, Clawfinger, Such A Surge und Napalm Death aus.

Fast schon zu erwarten, dass sie sich da auch mal eine Bühne mit Sick Of It All, Slayer, Motörhead, Bullet For My Valentine, Parkway Drive, Hatesphere, Heaven Shall Burn, Caliban, L'Esprit du Clan bis hin zu Snapcase und Judge geteilt haben.
Blood.Shut.Down. liefern New-York-Hardcore vs. Nineties-Hardcore, aggressiv, schnell und dynamisch. Das Debütalbum "The Great Escape" zeigt das musikalische Spektrum der Berliner, jahrelange Erfahrung, einen Mix aus Hardcore der alten Tage, gepaart mit Metal-Einflüssen.

Blood.Shut.Down.
"The Great Escape"
Label: Coretex / Spinnup
VÖ: 16.04.2021
Genre: Hardcore
Album vorbestellen
Amazon