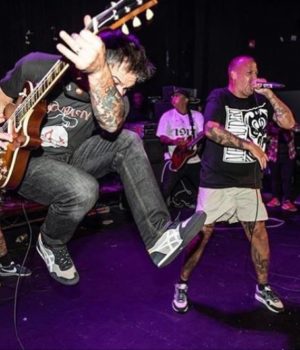 Heute aus der Kategorie "Totgeglaubte leben länger". Buried Alive melden sich nach 20 Jahren via Bridge 9 Records zurück.
Frei nach dem Motto "Das Ende ist der Anfang" macht die Bostoner Kultband da weiter, wo sie damals aufgehört hat.
Die Formation existierte zwar nicht lange, war in den 90ern aber in der vordersten Front der Hardcoreszene angelangt.
Man könnte sagen, Fronter Scott Vogel konnte sich mit "Terror" einen Platz in der Hall Of Hardcore sichern.
Mit der EP "Death Will Find You", welche am 21. August 2020 erscheinen soll, liefert Buried Alive feinsten Old-School, "In Your Face"-Hardcore ohne Schnörkel eben.
Neben zwei brandneuen Tracks erwarten euch auch zwei remasterte Stücke ihrer Split-Scheibe "Reach The Sky" aus dem Jahre 2000.
Es bleibt abzuwarten, ob mit dem Silberling eine Wiederauferstehung oder nur das letzte Aufbäumen von Buried Alive stattfindet.
Buried Alive
Death Will Find You
Label:Bridge 9/Soulfood
VÖ: 21.08.2020
Genre: Hardcore
Buried Alive im Web
Facebook