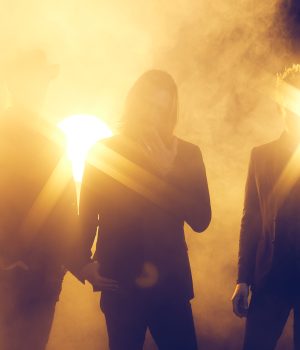 "Elbow Beach" is the second single from the double album "Passive-Aggressive" released last year by Manic Depression Records and Icy Cold Records. Is running away the best decision when faced with an insurmountable problem?
That's what the Parisian trio Je T´aime suggest, and they're back with their new video "Elbow Beach"; the continuation of the story of this magnificent loser, bad lover, bad husband and bad father.
His daughter understands that in order to save herself from this disaster, there is only one solution left: to run away.
This double album "Passive-Aggressive", just like the first album, is about Peter Pan syndrome and the difficulty to grow up.
"When a director makes a dramatic film, he is not sad. It's the same for us. We are just storytellers." – Daniel Armand/D-Boy
Our hero is constantly caught up in the past, and repeats the same mistakes over and over again, until he can no longer move forward in his life.
These words are spoken by the girl's father. He finally understands what a bad father he is and begs his daughter to leave.
Lyrics "Elbow beach"
She is the daughter of nothing
She sings: come here, tender death
The Flying Dutchman awaits you
Watch out! the currents can be capricious
Sail into the void
Without fasteners
Forget where you come from
Sail into the…
The roaring forties smash your past
Forget all that built you up
Swing and swim, little fish
Come on girl, lets' sail to Elbow Beach
You sail into the void
Where you're from
You sail into the void
The screaming fifties captures you
A twirling leaf in tournament
Don't try to hide or disappear
Don't shake, the boogeyman will have your back
Je T'Aime is:
dBoy: Vocals
Crazy Z.: Bass synth
Tall Bastard: Guitars & add synth
Starring Skoanne & JE T'Aime
Video by Albert + Marion // www.albertetmarion.com
Directed by Anaïs Novembre & JE T'Aime
Label: Manic Depression Records and Icy Cold Records
Lyrics: Je T´Aime