Wow, was für eine PR-Ansage einer bisher ungehörten Band: Die Oberherren aus Schweden laden ein zum Kreuzzug in Sachen 80s-Goth-Rock. Mit ihrem Longplayer "Die by My Hand", der am 27. Januar erscheint, reiten sie Retro zurück in die Gothic-Hochzeiten. Das Mastermind der Oberherren, Joakim Knutsson, kritisiert dabei jegliches, was heute unter diesem Genre läuft und sucht als Zielgruppe seines Albums die traditionellen Metalheads, Synthie-Fans, Rocker und Shoegazing-Liebhaber, die seinen Anspruch in Sachen Produktion und Songwriting wertschätzen. Die Musicghouls-Redaktion lauscht in dieses Werk rein und – streitet.
Musikalisch vielseitig
Zur Geschichte der "Oberherren", kurz zusammengefasst, gibt es diese Infos. Knutsson trommelt gemeinsam mit Mattias Holmlund kreative Punk- und Metal-Underground-Musiker (u.a. von Ghost) zusammen, die in seine Schublade passen und gründet "Die Oberherren". Er vereinigt Sound-Spezialisten, die ein Zuviel an populärer Dark Musik konsumiert haben. Wer Billy Idol, The Mission, The 69 Eyes, Sisters of Mercy und auch Alternative-Mixe mag, fühlt sich mit dieser Band wohl. Der Sänger –uns fehlen die Infos, wer in dieser Band wofür zuständig ist- keucht dazu ein dermaßen tiefgelegtes "Yeah Yeah" heraus, dass wir den Atem anhalten.
Bestes Beispiel für den gewohnten Goth-Stuff ist "Clans Of Darkness And Smoke", wogegen "Guns and Pills", inklusive weiblichem Klargesang, Richtung der frühen Mono Inc. flutscht. Musikalisch ist die Scheibe textlich aufhorchend und im Konzept auf festivaltauglichen Kommerz gepolt. Gut, der Silberling läuft mit jedem weiteren Hören runder. Eine Kaufempfehlung –wäre da nicht dieser spezielle Name.
Namensfindung zwischen Drama und Hard Rock

Mattias Holmlund und Joakim Knutsson arbeiteten als Lehrer an einem Stockholmer Gymnasium. Ihre Gemeinsamkeiten lauten: Wagner, Front 242, Heavy Metal. Knutsson schwebte eine Band vor, die eine okkulte Mischung aus "The Lords of the New Church", "Adam and the Ants", "John Carpenter Filmmusik" und "Billy Idol" in sich vereint, ein krudes Gemengelage.
Zum Bandnamen sagt Knutsson:
"Er musste deutsch sein und aus offensichtlichen Gründen das weibliche Genus "Die" im Namen haben. Wir wollten das gleiche Gefühl erzeugen, das wir hatten, als wir Bandnamen wie Rammstein, Laibach, Nitzer Ebb und Einstürzende Neubauten hörten." (Zitat)
Die Hörerschaft verwirren und Rätsel aufgeben, generiert Aufmerksamkeit via Social Media, Twitch, TikTok. Die Oberherren setzten auf einen unbehaglichen, deutschen Namen. Dazu ungeschöntes Songwriting.
Unheilvolle Oberherren
Laut eigener Aussage sind ihre Texte stark von der gleichnamigen Intellektuellengruppe (Die Oberherren) beeinflusst, die rund um das Jahr 1900 aktiv war. Themen wie Krieg, Armageddon, Dekadenz und Liebe, gefasst in Allzeit gültige anarchistische, okkulte und apokalyptische Prophezeiungen, greifen Hardcore in die Psyche. Wie "The Horned One Stabs", ein richtig griffiger Starter, aber keine leichte Kost.
Musikalisch gesehen, kuschelt sich dieses Album mit jedem Hören wie ein anspruchsvoller schwarzer Schmusekater tiefer ins Gehör. Die Oberherren sind gestandene Live-Musiker, sie wissen, wo bei den Goth der G-Punkt liegt. Bei "The Blood and The Wine" klingt sogar Him heraus.
Punkte: 8,0 von 10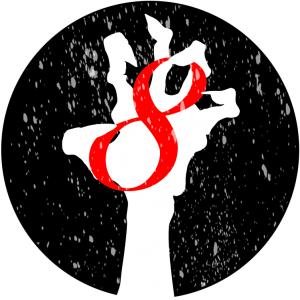 Tracklist:
01. The Horned One Stabs
02. By The End Of The Shore
03. Catrine
04. The Blood Or The Wine
05. Clans Of Darkness And Smoke
06. Guns And Pills
07. Black Nightshade
08. Something Wicked
Album bestellen:
Bandcamp
Die Oberherren
"Die By My Hand"
VÖ: 27.01.2023
Label: Svart Records
Genre: Gothic
Die Oberherren auf Social Media:
Die Oberherren auf FB
This is how we with "Google" translate our review
Wow, what a PR announcement from an unknown band: Die Oberherren from Sweden inviting you to a crusade into 80s goth rock. With their long player "Die By My Hand", which will be released on January 27th, they ride retro back to the best of Gothic days. Joakim Knutsson, criticizes everything that classifies the genre today and aimes to reach traditional metalheads, synth fans, rockers and shoegazing lovers who fullfill his standards in terms of production and songwriting. The Musicghouls editorial team listens to this work and – quarrels.
Musically diverse
Here comes what we know about the history of the "Oberherren". He together with Mattias Holmlund, Knutsson unites creative punk and metal underground musicians (including Ghost) who fit into his ideas and founds "Die Oberherren". Sound specialists who have consumed too much popular dark music. If you like Billy Idol, The Mission, The 69 Eyes, Sisters of Mercy and all this stuff you will feel comfortable with this band. The singer – we don't have the information who is responsible for what in this band – roars such a deep "Yeah Yeah" that we are amazed.
The best example of the usual Goth stuff is "Clans Of Darkness And Smoke", whereas "Guns and Pills", including clear female vocals, slips towards the early Mono Inc.. Lyrics are speciell but its musical concept is geared towards festival-ready commerce. Well, the CD runs smoother with every further listen. A purchase recommendation – if it weren't for this special name.
Finding a name between drama and hard rock
Mattias Holmlund and Joakim Knutsson worked as teachers at a Stockholm high school. Their common interest: Wagner, Front 242, Heavy Metal. Knutsson envisioned a band that would be an occult mix of "The Lords of the New Church", "Adam and the Ants", "John Carpenter Filmmusik" and "Billy Idol", a crude mixture.
Knutsson about the name of the band:
"It had to be German and, for obvious reasons, have the feminine gender 'Die' in its name. We wanted to create the same feeling we had when we heard band names like Rammstein, Laibach, Nitzer Ebb and Einsturzende Neubauten." (Quote)
Confusing the audience and being puzzling generates attention via social media, Twitch, TikTok. Die Oberherren opted for an uncomfortable German name. And uncomfortable songwriting.
Die Oberherren from Sweden with the cover of "Die By My Hand"
Scary Oberherren
By their own admission, their lyrics are heavily influenced by the intellectual group of the same name (Die Oberherren), which was active around 1900. Themes such as war, Armageddon, decadence and love, framed in all-time valid anarchic, occult and apocalyptic prophecies, grab hardcore into the psyche. Like "The Horned One Stabs", no light fare.
Musically, this album snuggles deeper into your ears with every listen like a demanding cuddly hangover. The Oberherren are seasoned live musicians, they know how to trigger the goth's G-spot. Even Him sounds out on "The Blood and The Wine".